When taking photos with an iPhone or iPad, then posting them here or sending them via e-mail,
THE POSITION OF THE DEVICE DETERMINES THE ORIENTATION OF THE PHOTO.
The Home button (the round button on the front of the device) should be
on your right
when taking a photo for it to appear right-side-up when posted or e-mailed. If the Home button is on your left, the photo will appear upside-down. If the Home button is at the top or bottom, the photo will appear sideways.
This is a property of iPhones and iPads and

NOT THE FAULT OF THE MARKETPLACE
Note that photos will appear right-side-up on the device regardless of position. The device senses its position and adjusts the display accordingly. This will make images appear to be right-side-up when they are not.
It's always important to
PREVIEW YOUR POST BEFORE SUBMITTING IT
. That way, you can see whether or not your photos appear as you intend.
If you have already taken photos that do not appear right-side-up, they can be fixed. Open the photo with graphics/imaging/photo software, such as Photoshop, and save it. No manipulation should be needed. Just open and save. The photo will now appear right-side-up in e-mails and in the thumbnails of attachments on the Marketplace.
===============================
There are also free online photo adjustment sites, such as:
Lunapic
Picmonkey
Fotor Photo Straighten
Convertimage.net
and many others. A web search will turn them up.
===========================================
They can also be fixed on the device itself.
With iPhones or iPads:
View the photo in Photos, then hit "Edit":

Find a symbol that looks like intersecting right angles with 2 curved arrows:

Hit that, and another option will appear that looks like a square with a curved arrow: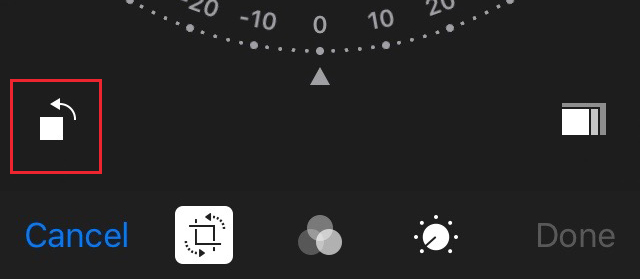 Hit that, and the image will rotate 90 degrees. Repeat if necessary to get the photo in the correct orientation and hit "Done".
==========================================
More information and resources:
http://iphonephotographyschool.com/ipho ... side-down/
http://www.cnet.com/how-to/why-does-my- ... wn-photos/
Do a web search for "iPhone photo orientation", or something similar, for more results and information.
==========================================
It is always important to
PREVIEW YOUR POST BEFORE SUBMITTING IT

.
Then you can see if your photos do or do not appear the way you intend.
===========================================
This problem is inherent in Apple and some other devices. Apple products do record photo orientation data, EXIF, but do NOT convert photos because it would take a few seconds.
Don't blame the Marketplace! This occurs on forums, Ebay and other places where people upload photos from iPhones or iPads and some other devices. It also happens when photos are e-mailed to someone who views them with a computer.